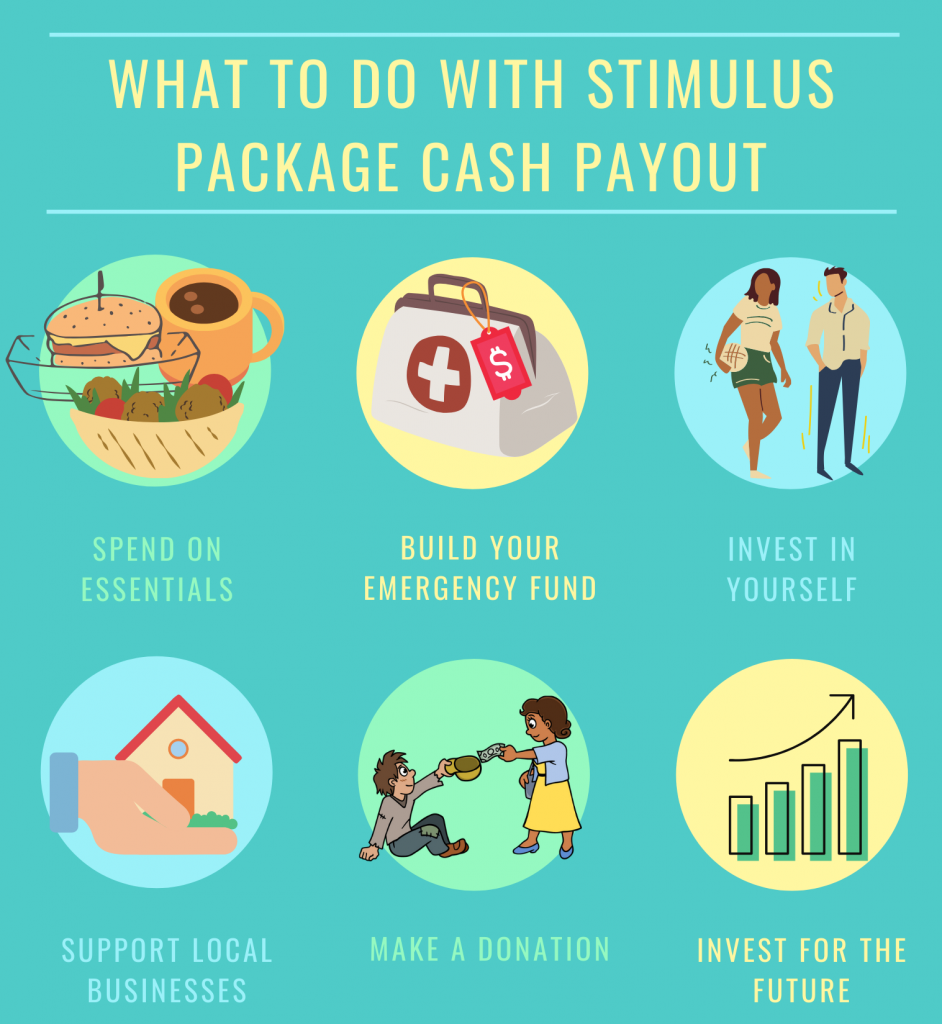 Background Story

Most of us probably have read or watched the news and found out about first the Budget 2020, then the Solidarity Budget and lastly the Resilience Budget. If not, you can read here to find out more details. To make a long story short, adults 21 years old and above will be getting $600 earliest tomorrow, 14 April (click here to find out more about how you will get this money).

Now if you're like me who just turned 21 this year, getting cash from the government can be an exciting thing. We're getting money out of nowhere by not doing any work!! But waaaait, we need to understand why we are getting this. The main reason of this cash payout is to help individuals and families who are facing shortage of cash or loss of income in this trying times amid COVID-19. As such, it is important that we make the most out of this to help ourselves survive this pandemic. (click here to read my recent post about spending extra money you might get) But look no further, here are some things you can consider doing with your cash payout:
Spend on the Essentials

Some of us might be studying and not receiving any income or allowance. But life still needs to go on. You need to eat, pay bills, etc. Plan ahead how much you need each month and see how you can fit this money into your plan. If you need help with budgeting, give a read on my article here!
Build Your Emergency Fund

If you're like me, you might still have a source of income to rely on. This cash payout will just be a bonus for you. If you have not done so, this will be the best time to build your emergency fund! Touchwood, but this emergency fund could save you in the coming months amid the instability in the economy. You can read more on how to build an emergency fund here!
Invest in Yourself

There's no better time to "invest in yourself". You might hear this phrase a lot but there's no exact way to do it. But here are some of the things you can do:
Buy books and increase your knowledge
Buy workout equipment and improve your health and fitness
Spend on your interest and improve your mental health
The list is endless, but the idea is to make yourself into a better person!
Support Local Businesses

With the Circuit Breaker going on for a month, there are essential and non-essential businesses affected. But the local businesses are going to be affected the most as the majority do not have as much cash to burn through like an established business. You could order in from them (you still need to eat, so why not buy from them!!) or purchase gift vouchers from them (this will give them immediate cash for them to survive). Here's a short article you can read up on!
Make a Donation

Even with this cash payout, some families might still not be able to get through this period easily. They might have bills to pay, or many mouth to feed. And you might be well-off without needing this cash payout. You can help them by donating your portion to them! It's the time to help each other as Singaporeans get through this tough times. Be sure to donate through the proper channels, the last thing you want is your money going to scams!
Invest for the Future

Last but not least, if you are someone who do not need this money now but would like to build your wealth for the future, this might be the best time to invest your money. Here are some ways you can invest:
Robo Advisor: these are for people who are lazy to do a lot of reasearch
Stock Market: the recent dip in the market means a lot of stocks are now on the low
Precious Metals: gold and silver are some of the precious metals you can keep as reserves
Start a side hustle: creating and selling things on the side can make provide you with another source of income
Investing is always a tricky business. You should be prepared to lose a big portion of your principal (although it doesnt happen so often). Do your research before investing any money!
Closing Words

There are many things you can do with your cash payout. But it's important that you use it well for the sake of yourself and the economy. I wish you the best of luck amidst this trouble times that we face. Look out for your family, friends and neighbours!

"After every storm, there is a rainbow. If you have eyes, you will find it. If you have wisdom, you will create it. If you have love for yourself and others, you won't need it." – Shannon L. Alder